J E SEAWARD
Janet Evelyn Seaward, born in Bexleyheath, Kent, and brought up in Lewisham, south London, is a writer and visual artist.
She attended Blackheath Primary School and Roan School for Girls in Greenwich.
After leaving school, Janet spent a year doing a fine art foundation course at Cambridgeshire college of Art and Technology and, apart from enjoying the course, she spent time learning other important skills such as: how to have a great time with no money. Following this, instead of listening to her heart and taking a degree course in fine art, she found herself doing the "more sensible" thing and went to Medway College of Art and Design to do graphics and advertising.
After leaving Medway she worked as a designer in the art departments of Flair and Cosmopolitan magazines. It was while working on Flair magazine that she had the opportunity to do some illustration and develop a style of her own.
This finally led to a career as a freelance illustrator and she worked for many magazines, newspapers and advertising agencies.
After a break to bring up two children, Janet set out to follow her youthful dream… to become a painter. Janet has had several one-man shows in London and taken part in many group exhibitions.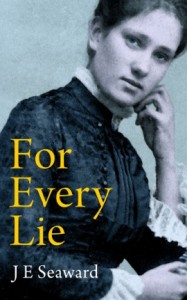 'For Every Lie' is the first novel by Janet. Based on the real lives of her ancestors, it is a captivating insight into Victorian London.
'For Every Lie' has been well received and Janet is currently working on a sequel.
Janet also goes under the name of Jan Seaward where she has combined both her writing and illustrative abilities to create the children's titles 'Firewash & Sons'.